In an opening speech to a conference held in Brussels reflecting on the state of the continent 70 years after the Molotov-Ribbentrop Pact, President
Jerzy Buzek
praised the progress achieved by Europe and reiterated that positive dialogue must continue with Russia to ensure it maintains the commitments it signed up to.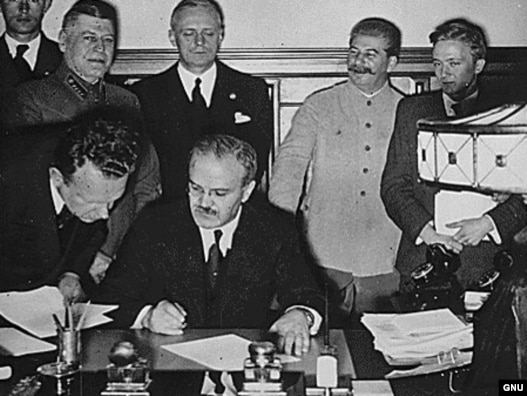 Accompanied on 14 October by
Irena Degutienè
, Speaker of the Lithuanian Parliament and
Gundars Daudze
, Chairman of the Latvian Parliament, representing two countries that were directly affected, Mr. Buzek said that "What happened 70 years ago, that large states talked among themselves about the fate of small nations, has [now] been made impossible by the European Union."
The
Molotov-Ribbentrop Pact
, signed on 23 August 1939, was a non-aggression pact agreed between Stalin's USSR and Hitler's Germany which also included secret protocols allowing the two countries to invade Poland and divide it, as well as redefining each parties "sphere of influence" in Eastern Europe.
Mr Buzek (left), describing his native country, explained that the Pact saw Poland divided in two between Nazi Germany and the Soviet Union. Finland lost 10% of its territory and Eastern and Northern Romania, as well as the three Baltic States, were annexed by the Soviet Union.
"In Poland, some 1.5 million people were deported, of these 760,000 died, many of them children," he said. "When we are looking at these figures, we can imagine the scale of the whole tragic story."
"We live in a different Europe today," he declared. "Today, the essence of the European Union has to be solidarity. More than ever we need to speak with one voice when we talk as the EU to the outside world. This is European Solidarity (...) this is what makes us strong."
Mr Buzek emphasised the importance of continued dialogue with Russia and that the EU's
Eastern Partnership
(association agreements signed between the EU and Armenia, Azerbaijan, Georgia, Moldova and Ukraine) is not aimed against any individual country, but aims to bring "further stability and prosperity to the entire region."
"It is our special responsibility," he said, "because we know that without solidarity there is no stability, without stability there is no prosperity, and without prosperity there is no peace."
In April, the European Parliament adopted its
resolution on "European Conscience and Totalitarianism"
, which called for the designation of August 23rd as a Europe-wide Day of Remembrance for the victims of all totalitarian and authoritarian regimes, and called on the European public to "commemorate these victims with dignity and impartiality".
---