Is French still heard or spoken in the corridors of the European institutions? Even between colleagues of different nationalities? From what began as an observation I made with my "outsider" eyes when I first arrived at the Parliament, I have asked myself more and more whether there is a future for the French language at the heart of the European Union as one of the main working language alongside German and of course English..


After all, even with a complete complement of interpretation on hand, there are still some MEPs and Commissioners who choose to speak in English, even if as a result their message becomes nearly impossible to understand - even for us Anglophones! But do also spare a thought for the interpretation teams...
Two weeks ago (2nd December), the team at
eurosduvillage.eu
together with the International Organisation of the Francophonie (OIF) organised an exceptional evening conference on this subject, entitled "
French in the European Institutions, an inevitable decline?
"
Good question. Intrigued, I decided to go along, and taking my place in the front row of the packed conference room directly in front of the panel surrounded by proud francophones, I was really in the lion's den - as we say in England.
After a short documentary prepared for the event that asked "
Do the European Institutions still speak French?
" a passionate debate ensued. Here are what the panellists had to say, all of whom were francophone (unfortunately?)...
Responding to the question of what language she uses at work,
Marie-Christine Vergiat
, a member of the Culture and Education Committee and French MEP of the GUE group since the elections of last July, said
"the language at work is English... the language in which we work less is French, but I use it myself because only in French can I properly express my opinions.""Since my arrival [at the EP] I have had contradictory feelings about it because we are really lucky here to have translation capabilities into all the languages of the EU but all communication, including between colleagues, is conducted in English."
"I am not anti-Anglophone - I learnt a little English like everyone else - but I am tired of the anglicisms which are catastrophes for translations and impoverishments of the language."
Philippe Etienne
, French Permanent Representative to the EU, believes that
"the diversity of languages is part of the history of European construction"
while also admitting that
"it is true that French is suffering a decline which will be inevitable, but not if we act to stop it." "It is important for every country, not just France, to defend its own language by using it for everyday speak,"
he concluded.
"It is not a battle against English" (music to my ears)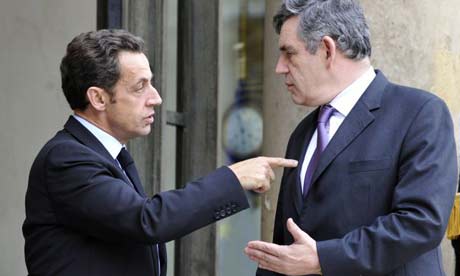 "First of all, I want to explain that this is not a battle against English,"
explained
Odile Quintin
, the Director General for Education, Training, Culture and Youth.
She told those in attendance that at the Commission, her policy is to
"promote multilinguism... the knowledge of other languages... and to respect them all on a level playing field"
, but Liberation journalist
Jean Quatremer
criticised the Commission for the delay in making available online (and often the complete absence) of French versions of documents and web pages. For him,
"there is no technical reason why the documents cannot be distributed in the two languages at the same time.""Every Brit that I have met here, whether a diplomat, a civil servant etc, speaks perfectly good French,"
he continued (ah, again music to my British ears).
"In fact, [the problem] is rather the other nationalities, notably those from Scandinavia, who do not speak a single word of French."
(It is worth noting here that the moderator had begun by posing a question to Mr Quatremer to which he began to reply in English! I tip my hat for his perfect pronunciation...)
The background en français please....
To illustrate the
"evident decline
" of the French language, Mr Quatremer recalled when he made his first steps as a journalist in Brussels in 1992 when at that time 70% of documents were distributed mainly in French. Today, this figure is around the 30% mark. He despairs that the press releases are published first and foremost (sometimes only) in English:
"the number of times the photocopier breaks down the very moment the French version is due to be copied; it's unbelievable! Two hours later the French versions appear, so press agencies simply have to work in English."

And even if they are written in French, the "
Background notes
" for the press still appear under the title that is itself an anglicism...
Olga Cosmidou
, a Greek national who is the Director General of Interpretation and Conferences at the Parliament, explained that
"Parliament cannot function with just one or two working languages"
and that, thanks to
webstreaming
(yet another anglicism!) the work of her DG is becoming more and more important as any EU citizen could at any time require the material put on the EP website in the name of transparency to be translated and available to consult in their own mother tongue.
"If we could all speak with one common language, the debates would be false debates,"
she said,
"so therefore there will always be a place for French."
So there we are! After two and a half hours of frank discussion, the neutral observer (of which I am) heard lots of talk of action that needs to be taken to preserve the future use of the French language, but very little of any concrete measures... Perhaps that is for next time?