It was the turn of the
British Conservative Party
to be left with egg on their faces at the end of another exciting week of drama at the European Parliament with expelled former MEP and current vice-president of the Parliament revealing he has joined the
Liberal Democrats
and Conservative French President Nicolas Sarkozy expressing regret at leader David Cameron's decision to remove his MEPs from the majority
EPP party
.
Edward McMillan-Scott
, below, a former leader of the Conservatives in the European Parliament, was expelled from the party after he broke party orders and stood last July agains Michał Kamiński, the Polish MEP and leader of the new alliance of which the UK Conservatives are a part of because of, because of what he called his "anti-Semitic, homophobic and racist links".
When he won re-election to the post, the party whip was removed from him and Mr McMillan-Scott was expelled without apparent notice or reason in September 2009.
He had announced his intentions to sue on the grounds of unfair dismissal
but after his lawyers said he could not expect a fair hearing, he withdrew and resigned from the party.
Speaking after he confirmed he had joined the rival Liberal Democrat Party, the MEP said: "
I have been around the higher circles of the Conservative party for long enough to fear that on Europe Cameron says one thing in opposition and will do another in government.
"
I have long fought against totalitarianism and the extremism and religious persecution it brings. It was wrong of Cameron to associate with MEPs who have extremist pasts in his new European alliance.
"
Mr McMillan-Scott added that "
my reasons for joining the Liberal Democrats are that in Nick Clegg they have a leader whom I like, admire and respect. They are internationalists, not nationalists. They are committed to politics based [on] the values of fairness and change.
"
"
People are controlled within the Conservative party, as I was. Cameron distancing the Conservatives from Europe is a serious problem for UK industry if they form the next government,
" he later told Sky News adding that his new party was "
rational and reformist
".
"The Liberal Democrats are pro-Europeans like me. They're also concerned about human rights and international diplomacy – these are things close to my heart."
Back in England, the Lib Dem leader
Mr Clegg
revelled in this success and paid tribute to his new MEP, saying "
for many years he has fought for human rights and democracy worldwide and he is rightly a respected politician across Europe. As someone of principle he has refused to cosy up to rightwing extremists, despite pressure from the Tory machine.
"
This flies in the face of David Cameron's claims of change. It shows that people of principle, who believe in fairness and want real change for Britain, are at home in the Liberal Democrats.
"
The Conservative Party have yet to issued any comment, not even one attempting to blemish Mr McMillan-Scott's record.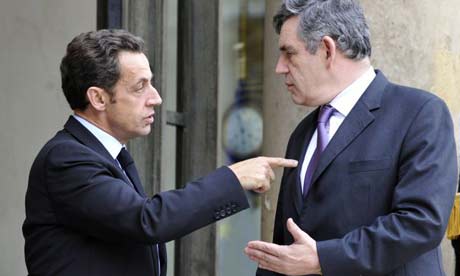 But they also received another kick in the teeth today as
Nicolas Sarkozy
, far left, the right-leaning French President who was in London today visiting Gordon Brown at 10 Downing Street, said he "
regretted
" Cameron's decision to pull the Tories out of the European People's party.

"If you want to me to say that I regret his (Cameron's) decision on the EPP, my answer is yes," Mr Sarkozy said in the same press conference in which he confessed that although PM Gordon Brown was from the other side of the fence politically they were always able to discuss issues frankly "even if we don't always agree".

Since he was expelled Mr McMillan-Scott has been sat as a NI independent MEP in the Chamber, despite joining the ALDE grouping via the Lib Dems, he will remain as an NI while serving as EP Vice-President.
---