The European Parliament's regular monthly plenary session unexpectedly kicked off in Strasbourg last night despite the circumstances hampering travel across Europe caused by the cloud of volcanic ash. While estimates vary, one thing that is for sure is that not all of the 736 MEPs will be present at this week's plenary in Strasbourg...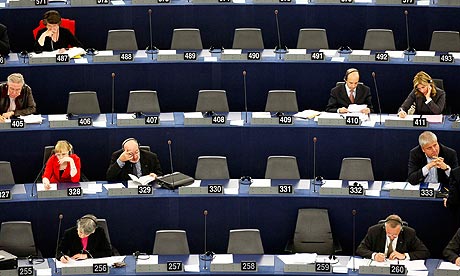 With air travel still seriously disrupted thanks to the volcanic ash cloud from Iceland, there were calls for the planned session postponed, but instead the plenary opened in Strasbourg at 17:30 last night, a move which Parliament President
Jerzy Buzek
said was an obligation under the EU assembly's
Rules of Procedure
.
"
A number of colleagues also suggested that the plenary session be moved from Strasbourg to Brussels but as the airports in both cities remain closed, there was no objective justification for such a last-minute change,
" the Parliament president wrote in a letter to MEPs.
But the he revealed yesterday that a number of changes would be made to the agenda given that many of the members were simply physically unable to be present.
"
We have decided that due to travel restrictions there will be no votes,
" he told MEPs at the opening of the session. "
MEPs are fully aware of the dramatic consequences of the ash cloud. Many thousands of Europeans have been badly affected. There are dramatic economic repercussions for airlines. Jobs are at risk across Europe. Parliament has decided to debate this on Tuesday as a priority
."
But the session will end earlier than usual, on Wednesday
not
Thursday. "
Transport is still drastically disrupted and it was decided to finish on Wednesday to give everyone more time to get home
," Mr Buzek confirmed.
While the airspace in many European countries remains closed, workers on the French
SNCF
high-speed rail network are carrying out a partial strike further affecting transport options to the small town in Alsace and reigniting the calls for the monthly-commute to end.
One Liberal Democrat MEP,
Sarah Ludford
, was clearly not happy about this when after she learnt of the partial strike she fired off a waspish email that read: "
Oh fab! That reallly takes the biscuit. I really don't wish to be rude or offensive to French friends and colleagues but it would be incredibly helpful if the French government and political community in general could carry through their championing of the obligation to have the travelling circus to Strasbourg by trying to ensure that state-owned tranport operators make that journey at least possible.
"
As for how many MEPs managed to make it to Strasbourg:
theparliament.com
says approximately 250 members signed in for the supposed start of the session on Monday, French blogger
Jean Quatremer
said the number was more like 120 while Marjorie van den Broeke of the Parliament's Press Unit
posted on Twitter
that "
408 MEPs were able to make it to Strasbourg
".
But someone definitely not there in Strasbourg (unsurprisingly?) is UKIP member
Nigel Farage
, who is also a candidate in the upcoming British general election. He said "
the whole thing is farcical and, given the circumstances, I really fail to see the point of going ahead with the plenary this week. People will still be arriving on Tuesday only to be told they are going home again the following day. You couldn't make it up.
"
Meanwhile, Socialist MEPs have called on the EU to "
ensure that the 6.8 million passengers stuck at airports around the world can return home as soon as possible in decent conditions
".
The group's German leader
Martin Schulz
said, "
For five days now, volcanic ash from Iceland has caused major disruption in European airspace. It is time for the EU to give leadership in dealing with the consequences."
"
Their problem is no longer one of inconvenience. It is a real difficulty, especially for people with small children, handicapped people and other vulnerable individuals,
" he said.
"
These people need help – and the role of the EU should be to coordinate action so that problems are dealt with efficiently. This is the moment for the EU to show that it is there to help its citizens and that it is a union about people, not just about markets.
"
---