As a follow-up to my piece last week
profiling the British members of the European Parliament who were hoping to become MPs and an overview of their chances on May 6th
, here is an overview of how they performed in Thursday's polls: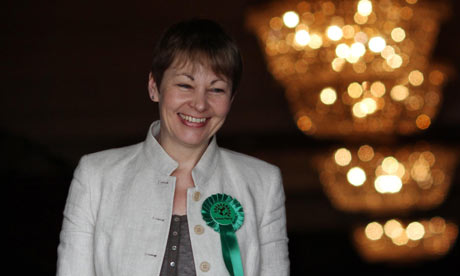 The headlines were made, as I predicted back then, by
Caroline Lucas
, left, who
became the Green party's first MP in the House of Commons winning the hotly-contested seat of Brighton Pavilion
. She will now leave her position in Strasbourg to take her place on the green benches of the UK's second chamber.
Nigel Farage
, the former leader of the UKIP party
famed for his '
wet rag
' speech
here in the UK, also made headlines albeit not for reasons he had hoped. At 8am on the morning the polls opened,
he was involved in a light-aircraft crash
which left him in hospital for two days whilst treated for broken ribs, bruised lungs and a chipped spine.
Upon leaving hospital earlier today he said he "
must be the luckiest man alive
" revealing he knew his plane was going to crash five minutes before it hit the ground. His plane crashed spectacularly on Thursday morning as a UKIP banner it was displaying became wrapped around the rudder.
"
You have to take off, and then you have to pick up the banner, but something went wrong,
" he said. "
Basically the banner hooked around the tail of the plane which meant that whenever he came in to land, it would be a nose-dive landing. So we spent five minutes knowing we were in for a crash landing and the question was just how big and bad it was going to be … I could feel petrol in my hair, we thought we were we going to burn to death. Yeah, that's pretty scary.
"
The accident meant he was unable to attend the count in which he had hoped to unseat the House of Commons Speaker
John Bercow
. The attempt failed, as Mr Bercow kept his seat with 22,860 votes. Mr Farage finished third with 8,410 behind independent candidate John Stevens on 10,331.
But Mr Farage remained upbeat and sent a message to those in Brussels who might be 'missing his presence': "I'm going to be better in three weeks' time. I'm going to go back to Brussels and annoy everybody, so I have been incredibly lucky. It's a real escape."

As for
Nick Griffin
, the leader of the right-wing BNP pictured left whilst out canvassing in Barking, well, he had a terrible night. Not only did he badly fail in his attempt to defeat Labour's
Margaret Hodge
, his party lost
all 12 of its council seats
in the local election held the same day. The BNP's two seats in Strasbourg are all it now has to show and as a result a group has been set up on Facebook humorously called '
What's the difference between Nick Griffin and a bus? The bus has seats
'.
Fellow MEP
Andrew Brons
had a similarly disappointing night in the Yorkshire seat of Keighley in which his vote fell to 4% meaning he lost his £500 election deposit.
Overall, it was a
positive
night for the UK Independence Party with many of their MEP candidates increasing their vote from 2005, although none polling anywhere near enough to gain a seat in Westminster.
Stuart Agnew
(Broadland),
Gerard Batten
(Romford),
David Campbell Bannerman
(Suffolk South),
Derek Clark
(Northampton South) and
Paul Nuttall
(Bootle) all increased there vote share although all but the latter losing their deposits with Mr Nuttall providing the strongest UKIP MEP showing with 6% of the vote and finishing only 1,000 votes behind the Conservative candidate in fourth place.
However it was not all good news for UKIP, with
Mike Nattrass
in Staffordshire South seeing his vote share plummet nearly 5% but still still enough to retain his deposit.
Finally on our round-up: the independent candidate
Nikki Sinclaire
who was standing in the Meriden constituency for the Solihull and Meriden Residents Association. She polled just 658 votes and finished last in the poll.
And so Ms Sinclaire, along with 10 of the 11 MEPs who sought election to the UK Parliament, will now return to Strasbourg and Brussels, while Green MEP now MP Caroline Lucas will begin to plan her new political life between Westminster and her new constituency office in Brighton.

---