Europe's swing towards the right continued today as it appears the centre-right parties have together won the majority of seats in Slovakia's parliamentary election.
While the governing centre-left
SMER
party remained the biggest party in the vote results, the Prime Minister
Robert Fico
, below, looks set to be ousted by a centre-right coalition focused on cutting the budget gap and mending ties with neighbour Hungary.
Although preliminary results showed the PM Fico's SMER party had won
34.8%
of the vote (63 seats), 79 of parliament's 150 seats have been awarded to four centre-right and ethnic Hungarian parties by the Slovakian electorate.
However, Mr Fico has since declared that as the largest vote winner he would try to form a new government: "
This is a number that gives us the right to accept a mandate from the president to form a cabinet,
" Mr Fico said. But this is perhaps unlikely to happen to form a stable government since before the election the opposition parties declared that they would not break ranks and join forces with SMER.
The conservative
SDKU
party, which was in power from 1998 to 2006, came a distant second with
15.4%
of the vote and has already initiated coalition talks with the conservative
Christian Democrats
(KDH), the newly formed liberal
Freedom and Solidarity party
(SaS), and the ethnic Hungarian
Most-Hid
party.
The SDKU were in power when Slovakia became a fully-fledged member state of the EU in 2004.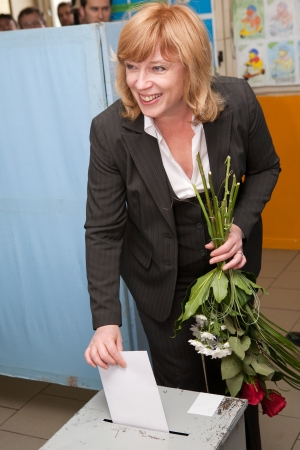 The parties' leader
Iveta Radičová
, left, was pleased with the results and announced her party's "
wish that this country will be called the tiger of Europe once again
".
"
SMER is the winner of the election, but it is not enough to be the winner. You also need to be able to form a government,
" she said.
The result was also warmly greeted in Brussels by the centre-right
European People's Party
(EPP) political group within which the SDKU and KDH are member-parties.
The EPP president
Wilfried Martens
was clearly delighted with the result in Slovakia, commenting
in a statement
that "
citizens gave their trust to EPP and like minded parties and a majority that can form a government, led by Iveta Radičová
."
"
Slovak voters turned their back to Socialist/populist Fico and his xenophobic allies,
" he said.
Slovakia adopted the Euro single currency in 2009 and, with living standards at just 72% of the EU average, many in the country have questioned whether they should help richer debt-laden Eurozone countries.
While both SDKU and SaS pledged during the election campaign that they would refuse to pay Slovakia's €800 million share of the EU bailout for Greece, some analysts have said they may back off the threat if they form government.
---