Frankly I have no idea how I managed to miss this gem earlier in the week but an MEP has submitted a written declaration to the European Parliament which calls on it to push for the creation of a European centre to study UFOs.
Italian MEP
Mario Borghezio
, who sits in the same
EFD group
as UKIP in the European Parliament, is pursuing his interest in the subject and invoking
Article 123 in the Parliament's Rules of Procedure
allowing him to "
submit a written declaration of not more than 200 words on a matter falling within the competence of the European Union which does not cover issues that are the subject of an ongoing legislative process.
"
And so, in the written declaration (
0057/2010
), printed and distributed in the official languages, it calls for "
public archives on UFOs to be opened up and for records to be declassified by the Member States, thus providing the public and the mass media with access to the full range of documentation on the subject
".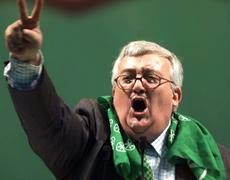 Mr Borghezio, left, "
considers it essential to set up a scientific centre for the analysis and dissemination of the scientific data gathered to date by various European bodies and governments
," it reads.
Bit it is actually not the first time UFOs have been a topic of discussion in the European Parliament: following a number of sightings in Belgium in 1990, Belgian MEP (now leader of the Belgian Socialist Party)
Elio Di Rupo
proposed a
European UFO Observation Centre
. Another MEP, the Italian physicist
Tullio Regge
, relaunched Di Rupo's initiative in 1993 and suggested that the French
National Centre for Space Research
become the official UFO information hub.
But now, Mr Borghezio is the latest MEP to attempt to unite the EU members in a mutual UFO crusade. Some governments have actually opened up their files on UFOs, including the French and notably the British who have ceased collecting reports as they felt there was no value in them.
But amazingly this isn't the only bizarre declaration made to the Parliament this month – Italian MEPs
Giancarlo Scottà
(EFD) and
Sergio Silvestris
(EPP) have called for the establishment of
European Home-Made Ice Cream Day
to be celebrated on 24th March each year "to contribute to the growth of this industry" (
0047/2010
).
---