Within 48 hours of receiving a critical
letter from French President Nicolas Sarkozy stating that Brussels could "do more" to provide urgent help to Pakistan
, the European Commission President José Manuel Barroso has rigorously defended the handling of the EU response to the floods in Pakistan in a letter of his own.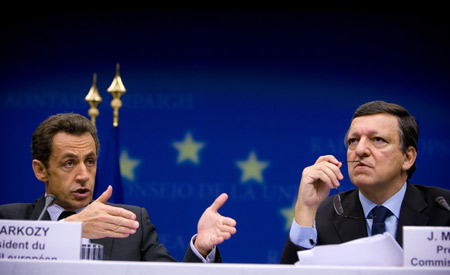 In
his written response to Mr Sarkozy
,
conveniently released to the press on the same day as the announcement the EU would increase its aid to Pakistan by a further €30 million
, Mr Barroso said that the EU had been the "
first to react
" to the crisis and "
of the more than €40 million that was raised, my staff have worked hard to ensure that the money can be spent on the field as soon as possible
".
Referring to the EU's humanitarian aid department (
ECHO
), he said that "
once again, the services of the Directorate General of ECHO are now demonstrating their professionalism and efficiency in responding to major humanitarian crises".
He did however confess he agreed with Mr Sarkozy that more should be done, yet, interestingly he placed the ball firmly in the court of the EU Member States themselves, rather than the Brussels executive – suggesting that he does not see
an EU Rapid Response Force
(as called for by Mr Sarkozy in his letter and others) as the appropriate way forward.
"
The EU can, and must do more. For this, we must mobilise member states. With my services, I devised a plan of action that I wish to share with you,
" he wrote.
And indeed the EU is to do more – with
the announcement
by this morning by the International Cooperation, Humanitarian Aid and Crisis Response Commissioner
Kristalina Georgieva
, that the EU will mobilise an additional
€30 million
in urgent relief assistance. This latest funding will bring the total humanitarian aid funds allocated by the Commission to assist the flood-affected populations to
€70 million
.
Justifying the increase in aid Commissioner Georgieva said that the additional funds will be used to boost the humanitarian aid operations carried out by the European Commission's humanitarian aid partners and that the Commission's relief experts are also active on the ground in Pakistan working "
to ensure that funds are being used in the most efficient way possible to the benefit of the desperate victims of these disastrous floods.
"
On 23 August, Commissioner Georgieva will herself travel to the affected area in Pakistan and will meet with authorities and relief experts, as well as with people affected by the floods.
---