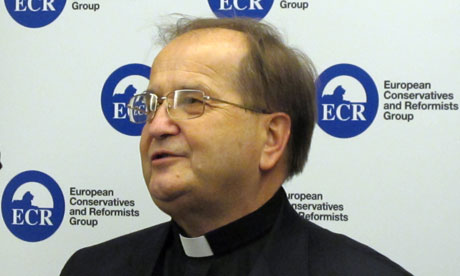 According to an article published in the Guardian this week
, a controversial Polish priest known for running a radio station that regularly broadcasts anti-semitic and homophobic views attended the European Parliament on Tuesday at the express invitation of MEPs from the group home to the British Conservative members.
Father Tadeusz Rydzyk
, above left, whose
Radio Maryja
station has been criticised by the Vatician, former Solidarity leader Lech Walesa and Jewish organisations for its extreme views, reportedly appeared at a four-hour conference to discuss climate change and renewable energy.
Organised by
Marek Grobarczyk
and
Tomasz Poreba
, two Polish MEPs who are members of the ECR, the event also had a certain British MEP, the South West's own
Julie Girling
, on the bill to speak at the meeting, but she mysteriously pulled out at the last minute –
citing "toothache" as her excuse
.
The Guardian reports
that Father Rydzyk's attendance provoked a "
surprising outburst from British MEP TImothy Kirkhope, the deputy chairman of the ECR group, who said that he was disappointed not to have been told in advance that such a controversial figure had been invited to attend by fellow MEPs
"
But the questions remains – and rightly so – why was Mrs Girling on the bill in the first place? This query was echoed by South West Liberal Democrat MEP
Graham Watson
who tweeted:
Labels: Graham Watson, Julie Girling
---