British Prime Minister David Cameron was in Strasbourg this week to address the Parliamentary Assembly of the Council of Europe (
note
:
entirely different to the EU
) of which the UK has now assumed the presidency.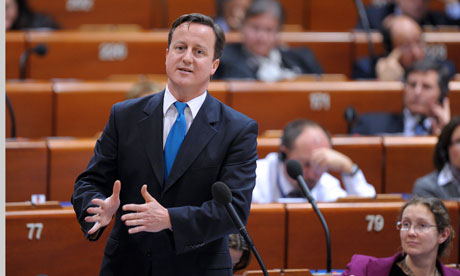 Following his speech delivered on Wednesday in which he urged EU leaders to seize a '
once-in-a-generation chance
' to make sweeping changes to the
European Court of Human Rights
(see also:
full speech
and analysis
here
and
here
), he took questions from parliamentarians and in response to one notably reaffirmed the UK backed Gibraltar's right to self determination and that to go against the wishes of its people would amount to "
re-colonisation
".
Mr Cameron made that particular statement in response to questions from a Spanish Partido Popular (PP) MP
Pedro Agramunt
, who sought his views on the "
European Union, the Schengen Agreement, the European Monetary Union and the decolonisation process
".
In reply, Mr Cameron said
:
"I am not sure whether the last part of your question was on Gibraltar or the issue of the Falklands, which has been raised recently. I have a very clear view: we should stand for self-determination, and as long as people in a part of the world that is part of the United Kingdom, effectively, want to remain with that status, far from being de-colonisation, it would actually be re-colonisation to go against their wishes, and that is the case in all those instances."
Since arriving in power last November, Mr Agramunt's
Partido Popular
have been
making loud noises about Gibraltar
seeking future sovereignty talks, but the British stance has remained firm. A little over a week after the Spanish General Election, The Europe Minister David Lidington,
vigorously restated the Government's long-standing assurance that it will not talk about Gibraltar's sovereignty against the wishes of the Rock's citizens
.
The United Kingdom holds the Presidency of the Council of Europe
until May 2012
.
---