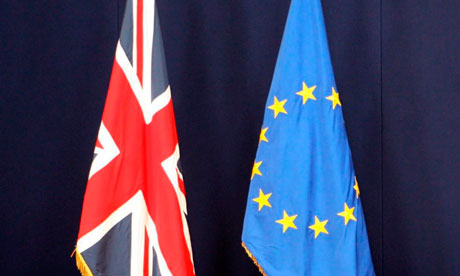 As the calls increase among the UKIP and Conservative Party ranks for a straight In/Out referendum on the UK's membership of the European Union, the Gibraltar Chronicle have done us all a service in asking all of our regions' MEPs what their opinion on this is.
Liberal Democrat
Sir Graham Watson
is (unsurprisingly) the only firm non supporter of an EU referendum taking place of our MEPs, saying:
"I would vote to stay in the EU. I believe the government's policy is right, viz to hold a referendum on any new Treaty proposal involving a substantial change in the UK's relations with its EU partners I believe it would be frivolous to put British jobs and investment and so much else at risk merely to placate fanatics in the UKIP and the Tory party."
Conservative MEP
Julie Girling
would support a referendum taking place, but she admitted she does not think that a In/Out referendum is adequate, saying:
"There must be three options. 'Yes', 'No' or' Stay and renegotiate'. I would support the third option."
Giles Chichester
, asked whether he would support an EU referendum taking place, said he would vote to
maintain
UK membership:
"Yes but it depends on what question."
Fellow Tory MEP
Ashley Fox
relayed in his response how constituents that contact him are concerned that Europe costs too much and interferes too much in their daily lives, but was content with the line taken by his party leader David Cameron, saying:
"The Prime Minister is right to talk about holding a referendum on Britain's relationship with the European Union. He is also right that this shouldn't take place until after the next General Election. […] Whilst we value the single market that enables us to trade freely with our European partners, we worry that Europe is developing into a Political Union that we haven't voted to join."
Unsurprisingly, the UK Independence Party members of the European Parliament for the region were more outspoken in their support of an In/Out referendum and an 'Out' vote.
The Earl of Dartmouth
said:
"We firmly believe that people should have a say on this vital issue. Remember that nobody under the age of 54 has had a vote on this in 1973 we were voting on a Common Market not a political and economic union."
Similarly,
Trevor Colman
affirmed he would also vote to leave the EU, and said:
"I definitely would support an EU referendum taking place in the UK. I would not support an EU-wide referendum but would support individual referenda in each of the member states."
While there are no surprises in the viewpoints of our MEPs it is good to be able to compile all of their views on one issue.
While this scenario is entirely hypothetical, let us all hope that such a referendum happens since it is the wrong question to ask at the wrong time, and simplifying the UK's whole relationship and engagement with Europe to a simple In/Out would be a tremendous and horrifying disservice.
As for what would happen to Gibraltar should the UK ever vote to leave the EU: the article quotes a member of the Gibraltarian government who replied to that question as follows: "
Gibraltar is a European territory for whose external affairs a member state is responsible: that member state is the UK. This means that our terms of membership are linked to those of UK. The implications for Gibraltar of the UK withdrawing from the EU would depend on the arrangements that would then be put in place between the UK and the EU upon the UK's exit.
"
Click to continue reading their interesting article
.
Labels: Ashley Fox, Giles Chichester, Graham Watson, Julie Girling, Trevor Colman, William Dartmouth
---