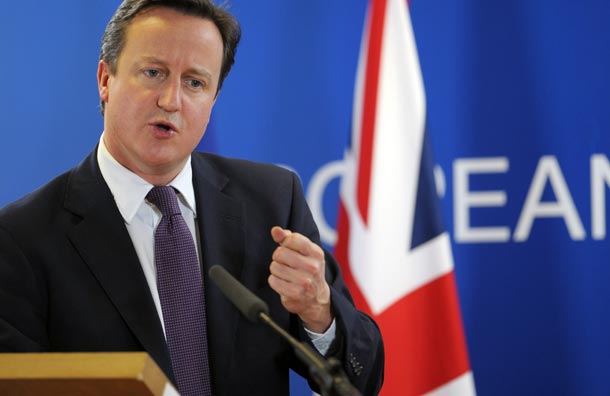 Earlier this morning on
BBC Radio 4's Today Programme
, British Conservative Prime Minister David Cameron, under continuing pressure from his party's backbenchers to act more eurosceptic, said he favoured a referendum on the country's ties with the EU because it is "
obviously the cleanest, neatest and simplest, most sensible way
" of winning consent for any changes in the relationship but repeated his opposition to a straight in/out referendum because he does not want the UK to leave the EU.
Mr Cameron, who tomorrow is due to make his keynote leaders' speech at the
Conservative Party Conference in Birmingham
, said he preferred a referendum, and I now suspect (and hope) that any such vote will not come until after the next election, scheduled for May 2015.
Below is a full transcript of his words on Europe from
Radio 4's Today Programme
:
"Europe is changing, the eurozone is going to integrate, they are going to do more things together, and I think that's right for them. It's necessary if they are going to save the single currency, but I think that does open up the opportunity for Britain to get a fresh and a better settlement with Europe and I am committed to making sure we do everything to set that out in the run-up to the next election; to get that fresh settlement then seek fresh consent for that settlement. And why I've always opposed the straight in/out referendum is that I'm neither in favour of out – leaving altogether – nor am I satisfied with the status quo. I want to change the status quo. We've always said that when we've achieved that fresh settlement, it needs consent, either at a referendum or a general election. Frankly, a referendum is obviously the cleanest, neatest and simplest, most sensible way of doing that. But as I say, it's right to leave open that question for the time being."
SEE ALSO:
'Europe is a club to which we belong' MEP Julie Girling says now not the right time for UK referendum on EU membership
(04/10/2012)
---