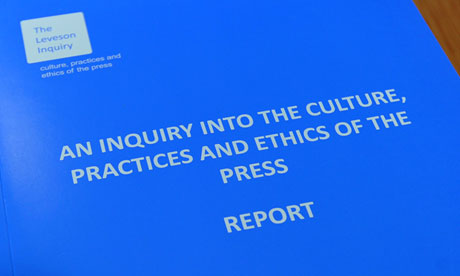 After many years of evidence-taking and consideration and at much expense, Lord Justice Leveson on Thursday 29 November published his extremely lengthy
report on the culture, practices and ethics of the press
. While the national press revelled in the days that followed at the opportunity to talk about the press and argue at length how any form of statutory regulation was unwelcome, others read the report and
the Business for New Europe blog
as well as
the Tabloid Watch blog
among others reposted a number of passages from the report where Lord Justice Leveson speaks of '
clear evidence of misreporting on European issues
'.
In his report, Lord Justice Leveson (p.687) writes:
"Articles relating to the European Union, and Britain's role within it, accounted for a further category of story where parts of the press appeared to prioritise the title's agenda over factual accuracy."
On misreporting of EU issues in the press, he said "
the cumulative impact can have serious consequences. Mr Blair explained that the misinformation published about Europe by some parts of the press made it difficult for him to adopt particular policies or achieve certain political ends in Europe that he might otherwise have done.
"
In today's Financial Times, South West Liberal Democrat MEP
Sir Graham Watson
published a strongly-argued letter in which he says the UK media has "
followed its own agenda on the EU
".
It reads
:
"Sir, The Leveson report makes some interesting reading on British reporting on "Europe". Debate on this issue is relevant to Britain's place in the world, trade, jobs, our economy, investment and our environment. Yet Lord Justice Leveson notes that for articles relating to this fundamental issue, many newspapers 'appeared to prioritise the title's agenda over factual accuracy'.

We have increasingly seen inaccurate, misleading and downright untruths that the EU is banning everything from mushy peas and jam jar lids to kids blowing up balloons. Such blatant fabrications do nothing to help citizens make an informed decision about our involvement in the European Union.

The Leveson Report rightly notes that 'on issues of political interest, the press have a responsibility to ensure the public are accurately informed so that they can engage in the democratic process'.

For too long politicians and media proprietors with a vested interest have decided how the press is regulated. But the current self-regulation, where the press act as judge and jury over their own affairs, has failed.

The 1st Clause of the PCCs Editors Code explicitly refers to the need for accuracy. But in many cases where no specific individual has been affected by an untruth the PCC have continuously allowed editors to play fast and loose with the facts.

I am all for an open and free press to play its full part in the democratic process, but press reporting must be founded on accurately informing readers rather than misleading them."
This is an opinion that I cannot fail to fully agree with. Indeed, one of the reasons I started this blog was to detail how the work at European Union level actually does bring benefits and what our six elected MEPs do - two aspects that hardly get a mention in local and national media unless it is sensational, an opportunity for Nigel Farage to provide soundbites, or a fabricated Euromyth (which is more often than not).
With so many Euromyths created and presented by national newspapers as fact (too many to mention), is it any surprise the perception of Europe is largely negative in the eyes of most citizens and that the UKIP party score so well in European elections as a result? This needs to change and some accurate reporting would go a long way to improving the situation.
Admittedly, European Union politics is not as simple, confrontational and as 'scandelous and sexy' as Westminster politics is but it is nonetheless important. I, for one, hope that the Leveson report will signal the start of the end of Euromyths that will no doubt dominate the coverage in the run-up to the European elections in 2014.
Stranger things have happened
but I live in hope…
Labels: Graham Watson
---