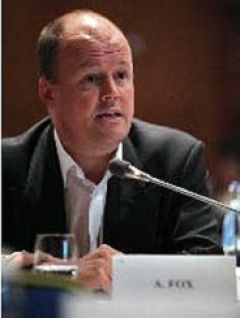 MEPs meeting in Strasbourg this week have voted in favour of implementing
new and tougher rules applicable to credit rating agencies
which stipulate that unsolicited sovereign debt ratings can only be issued on set dates and private investors may sue these agencies for negligence. Moreover, the adopted text says that ratings agencies must not seek to influence state policies, and agencies should not advocate policy changes.
The rules originally proposed by the European Commission were significantly amended during their passage through Parliament by MEPs including the South West Conservative MEP
Ashley Fox
, who believes the package now approved by MEPs is "
an improvement
", but still
a mixture of the "unnecessary and the inadequate"
.
Speaking on behalf of his political group in the Parliamentary debate on the matter this week in Strasbourg,
Mr Fox said
this was a case of "
legislating for the sake of it
" noting that "
this is the third piece of legislation we have discussed on credit rating agencies since the crisis [and] the Commission is still implementing the first two pieces
".
For him, the creation of a European credit ratings agency "
would be a disaster
" because "
funded by the taxpayer, regulated by the Commission – who in the market would believe a word that it ever said?
"
"
Let us be clear: credit rating agencies have been guilty of bad practice, especially in relation to the US subprime crisis, but they were not responsible for the current euro crisis. That was caused by the poor construction of the euro in the first place and bad and unsound economic policies pursued by Greeks and other governments,
"
he said
.
Helpfully, the European Commission has released
an extensive FAQ about the regulation of rating agencies
.
---