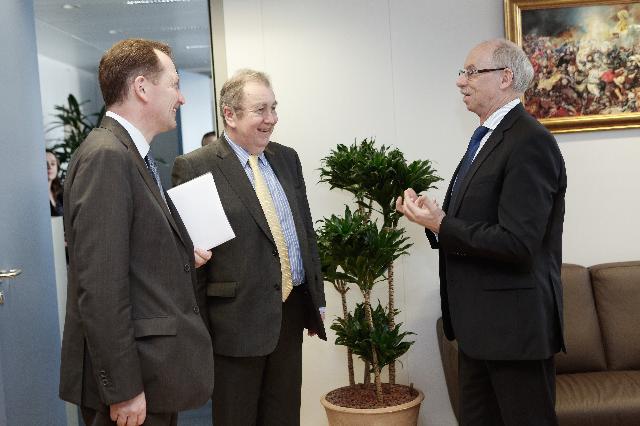 South West Liberal Democrat MEP
Sir Graham Watson
has this week
penned an editorial
with the Liberal Democrat MP for Torbay
Adrian Sanders
in which they argue that a long-awaited EU funding boost for Devon could be transformative for the region.
Devon is in line to benefit from
an EU funding boost after Prime Minister confirmed in February
that it would be defined as a 'transition region' so will share around £2.5 billion of regeneration money from next year. Cornwall and the Isles of Scilly are already set to receive additional EU money through its structural fund programme as
its GDP remains below 75% of the European Average and England's poorest region
. There had been fears that Devon would get left behind, and nine members of the UK parliament representing Devon and parts of Somerset, including Mr Sanders,
handed a letter to the Prime Minister in December
urging him to support plans for a series of 'transition zones'.
"
In previous years Devon has had to share EU regional development and social funding with the rest of the South West, which has often watered down the value of the spending. What is needed in Torbay is not necessarily the same as that which is needed in Tavistock or Torrington. Devon's economy is below the EU average – as it happens it is at about the same level as our Portuguese holiday destination rivals, the Algarve. But the county's challenges are different to those in other parts of the Westcountry,
"
the editorial reads
.
"With investment from EU schemes and the coalition Government's Regional Growth Fund, Devon can emerge from the economic downturn with renewed vigour and confidence […] Our Local Economic Partnership (LEP) is working on a strategy for where this funding could be delivered. We encourage all businesses and voluntary organisations, whether big or small, to work with the LEP to make sure this county gets as much as possible out of the money."
The article comes after Mr Sanders paid a visit to Brussels where he had meetings with
Janusz Lewandowski
, the European Commissioner responsible for the budget (see photo above), and Bulgarian Socialist MEP
Ivailo Kalfin
, who is leading negotiations in the European Parliament. They also met with senior officials in the EU's fisheries and regional funds departments, to discuss plans to create a pot of money specially dedicated to areas like Torbay.
Labels: Graham Watson
---